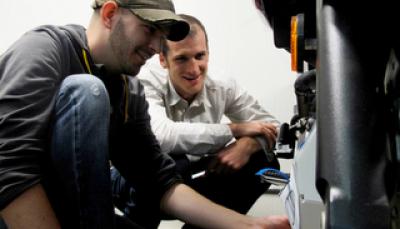 We are excited to welcome Jacob Ellul-Blake, Lead Product Engineer, to the AltRider team. Jacob will spearhead efforts in product design and development, supplier relationships, product documentation and testing, and inventory management.

In Jacob's resume of accomplishments are things like award winning prototypes for espresso machines, hand-made furniture pieces, wildcard wins at soap box races, and most unexpected of all, several years of playing with the Portland Opera, Seattle Opera and Honolulu Symphony as a classically-trained musician.

All that, in addition to his problem-solving skills, love of building machines, and passion for adventure riding, couldn't make the boys in the AltRider garage happier, 'cause someone has to make sure the AltRider branded parts hit the market by the winter deadline. Jacob will.