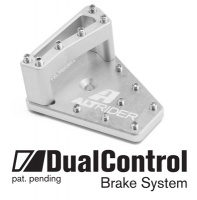 The patent pending AltRider DualControl Brake System can improve your riding performance with faster response times. As you transition from sitting to standing positions your foot will naturally rise and fall as angle of your leg changes. The DualControl Brake System keeps your rear brake connected to your foot no matter what your position is.
DualControl Brake System – The One ADV Accessory You Need, but Don't Have
Designed for all popular ADV bikes, and many dirt bikes.