Place an order for $350 or more and receive FREE shipping between Nov 12th through Dec 21st 2012. Treat yourself or a friend to the best ADV gear around and save the extra money for planning your next epic adventure.

Restrictions: Order must be placed on www.altrider.com or call 206-922-3618 between Nov 12th through Dec 21st. Offer applies to all merchandise on AltRider.com. This special deal only applies to orders within the continental United States ( excludes Alaska and Hawaii). This offer is only good for free FedEx ground shipping. This does not apply to dealer or distributor orders. $350+ qualifying order doesn't include taxes and fees.

Instructions for this promotion: Place your order worth $350 or more, choose the ground shipping option and complete your order which has the price of shipping still added. The cost of shipping will be included in the cart as you confirm but the cost of shipping will later be removed before your credit card gets charged.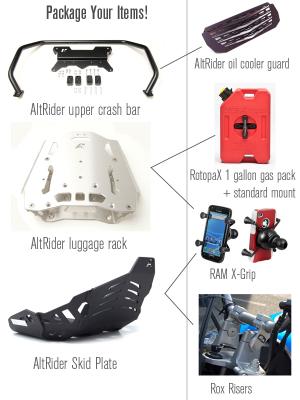 AltRider upper crash bar + AltRider oil cooler guard
AltRider luggage rack + RotopaX 1 gallong gas pack + mount
AltRider skid plate + RAM X-Grip + Rox Risers