My first month at AltRider has been a whirlwind. It was a mix of excitement, trepidation and a feeling that not many of us know too well -- something called job satisfaction. My professional experience has mainly been in the stimulating banking industry, trudging my way through a zombie employment waiting for the next best thing in life. When an opportunity to become the Marketing Coordinator at AltRider arose, I immediately jumped at the chance.
I was a tomboy growing up, much to my parents chagrin. I immersed much of my young adult life covered in road rash, traveling and competing in longboarding (downhill skateboarding) events and forum smack talking with the boys. Yes, I've called someone a n00b solely for their post count. With my longtime infatuation for this need for speed, anything motorcycle related seemed like a natural progression for me.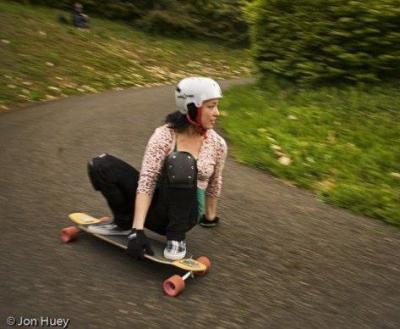 During my first few meetings with Brianna , she had mentioned an opportunity for me to take the Motorcycle Safety training course. At this time, Taste of Dakar weekend was starting to come together and I was taking a brunt of the responsibility in organizing the event. Full planning mode was in gear a few weeks later for Taste of Dakar. Spontaneously, I decided I wanted to learn how to ride and signed up for my local MSF class at Boeing Field. I shimmied my way into multiple layers of clothing (3 pairs of pants to be exact) at 6am and braved my way out into the chilly 30 degree weather for my first lesson on a bike. Most people in the class already knew how to ride while panic struck when I realized I didn't know when to use the clutch. Note: combing through the MSF handbook beforehand might have been useful. After quickly learning the basics, I was already dreaming of riding in the warm desert sun while I was shivering in the freezing cold, my hands so shaky I couldn't keep a smooth purr of the engine. Luckily, I passed all the motorcycle endorsement tests with flying colors. I was ready for my next adventure at the Taste of Dakar weekend.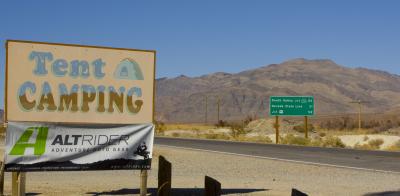 Taste of Dakar was a full weekend ride in Shoshone, CA (right outside Death Valley) including camping, self-led GPS routes and presentations from Dakar contenders, Jimmy Lewis and Manuel Lucchese. Jimmy specially formulated awesome routes from his hometown location while Manuel flew in from Italy just to ride with us and present his stories from Dakar. In preparation of getting to know the superstars, Facebook stalking was at an ultimate high before our departure.
I admit, I was extremely nervous going to this event. It was a lot of firsts for me—first business trip, first big event planned and the first time meeting enthusiasts from the ADV crowd. My worries of not being able to connect to people were squashed with the first arrivers of the event. Everyone had cheerfully greeted me and I found how easy it was to chat with all the riders.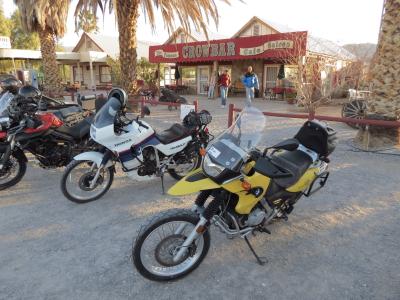 Some of the highlights of my trip were driving the huge AltRider Sprinter van through the scenic mountainous desert, sharing inappropriate jokes with the editors from motorcycle publications and Manuel Lucchese (my new best friend), seeing packs of adorable coyotes, and just being surrounded by intense enthusiasm for the love of a sport. While I didn't get a chance to ride during the Taste of Dakar weekend, I know my time will come where I will compete with Brianna for the coveted caboose spot.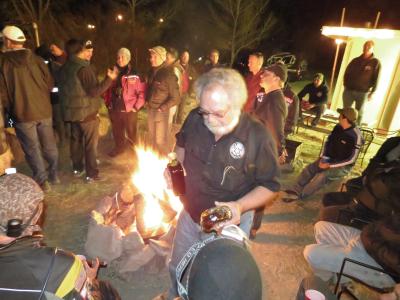 What attracts me to AltRider is everything that I felt back in the day about longboarding. It's the same excitement of new product launches, road trips with friends for epic events, and camaraderie in the community. I've already shared heart to hearts around a campfire with riders, truly connecting with the ADV crowd who warmly embraced me as a newcomer.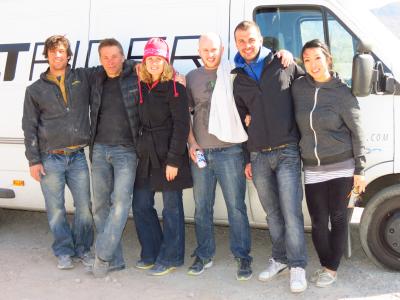 I'm one month into my position at AltRider, and I still walk into the office everyday brimming with excitement to tackle the next challenge. You'll be hearing a lot more from me on our newsletter, blog and social media outlets. Don't forget to say hi to me at events and shows!