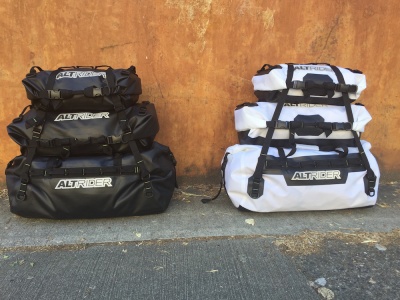 Our newly refreshed SYNCH Dry Bags have just arrived! This popular product line includes three sizes to let you smartly pack your ADV bike: 14L (perfect pannier topper), 25L (perfect weekend trip) and 38L (full duffel). Available in black and white color schemes, these new and improved SYNCH Dry Bags were refined specifically for durability and moto-centric use. See why these are the best motorcycle dry bags for you:
Engineered Specifically for Motorcyclists
| | |
| --- | --- |
| SYNCH Dry Bags can be stacked one on top of one another in a variety of configurations, using high-strength nylon D-rings attached to anchor patches and a completely redesigned and easier to use strap system. This flexibility not only allows riders to stack different sized bags, but also different brand bags or additional items. | |
| | The large (38L) duffle bag was designed with a "D" profile, which means the bottom panel is flat rather than rounded. This provides more stability when the bag is installed on the pillion seat or luggage rack of an ADV bike, and also makes for easier packing of bulkier items like boots and shoes. |
| All SYNCH Dry Bags now feature "Reflex" ink in the logo. This ink is highly reflective in both natural light and vehicle lights, and is coated to protect against the elements. This is most reflective material you can buy, which is needed in motorcycle applications. | |
Closures
| | |
| --- | --- |
| The small (14L) and medium (25L) bags feature openings at both ends, allowing the rider to access either side while still affixed to the bike. This is a great way to allow two access points for quick-access items like a tire pump or snacks, so that the rider can unroll one side or the other without having to completely unpack the bike. | |
| | The large (38L) bag was designed with a single closure on the top. This closure is tapered with a wide mouth for easier packing, unpacking, and accessing items anywhere in the bag. |
| All SYNCH Dry Bags feature a high density plastic stiffener rib that helps form a very tight closure, translating to better protection against water infiltration. The stiffener also makes it easy to hold the bag open with one hand for easier packing and visibility to find contents within. | |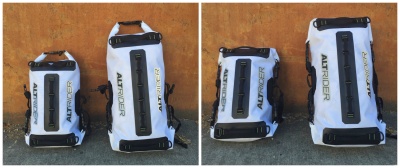 Male/female buckles allow for two different closure methods on the small (14L) and medium (25L) bags. The handle type closure method (pictured on the left) allows for quick attachment to other anchor points, and is great for transporting the bag off the bike. The tie-down type closure method (pictured on the right) is better for enabling extra compression, and will help you maximize your space on the bike.
Portability - Carry Handles and Daisy Chains
| | |
| --- | --- |
| Carry handles on the small (14L) and medium (25L) bags make for easy portability off the bike. Each bag has 2 carry handles affixed to heavy duty, welded-on anchor patches, letting riders carry them individually or even in a fully stacked configuration. Riders can also use the carry handles, daisy chains, or the durable D-Rings to affix additional items such as sleeping pads. | |
| | The large (38L) bag features dual handles that can be joined by a velcro closure in the middle for comfortable carrying. Two side-release buckles cinch down to secure the closure from the elements on long rides. |
| The daisy chain serves as a catch-all for anything you might want to attach to your dry bag, such as a lantern or water bottle. They can also be used as additional strapping points for some of your bulkier camping gear. Daisy Chains are installed on all sizes of dry bags to offer extra convenience and flexibility when packing. They are constructed of durable webbing (rated to 600lbs) and are secured to the anchor patches via bar tacks made from military-spec nylon thread. | |
| | Cinch down straps on the large (38L) bag can be converted into a shoulder strap or backpack straps for easy off-bike carrying. |
Construction and Materials
| | |
| --- | --- |
| The new SYNCH Dry Bags are constructed of a new 600d coated polyester body fabric. This high-strength fabric is coated on both sides for 100% waterproof protection, and is highly flexible and lightweight despite its strength. | |
| | The black anchor patches and abrasion patches are made from a luggage-grade, heavy duty 1680d coated polyester for ultra durability where it's needed most. These anchor patches hold handles, D-rings and daisy chains in place, and are welded to the bag for a bomb-proof solution not found on most dry bags. These additions were made intentionally from years of experience; learning what fails and improving upon it. |
| SYNCH 2.0 bags are all RF welded (radio frequency). These seams are stronger than traditional sewn seams because there is no piercing of the fabric during assembly. The seams range from ½" wide to ¾" wide for extra strength where it's needed most, and are not found on most systems. All exposed seams of every bag are RF welded not only for strength, but for total waterproof and dustproof protection. | |