Meet our featured fan of this week, Mike Harley!
---
I first learned about AltRider while prepping my bike for a trip from Neah Bay, Washington, (the farthest west point of the 48 states, and the highest latitude), to Nogales, Mexico,all on dirt or backroads. We called the trip LFWD, after the Long Way Around movie. We decided to take Suzuki V-Stroms because of the large fuel capacity and fuel injection. The V-Strom is a great bike but suffers from no protection for the engine. I learned about AltRider from the ADV Rider website, and they were located near my home in the Seattle area. I went to the store, and met the team and saw the products first hand. I was impressed with the quality and we outfitted all the bikes with skid plates and crash bars from Altrider.
I really like the products we bought from AltRider and we put them to the test. Between the five V-Stroms, we had no failures over the 4400 mile adventure. So that is 5 times 4400 miles or 22,000 miles of the most abuse you can imagine.
I am sure my bike would have been had a destroyed engine without the skid plate. I was so impressed that I brought the skid plate back to Altrider to show them how hard you can smash the bike into rocks and have it survive. The crash bars, while well used, showed no damage at all.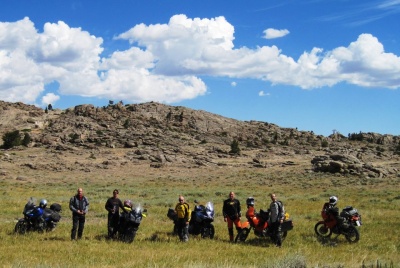 Since returning I have bought a new BMW R 1200 GS Adventure, which will be protected by Altrider products. I also took a KTM 690 Enduro R on the Idaho Backroad Discovery Route this summer.
I encourage everyone to try the Backroad Discovery routes. I have done Washington, Idaho, and Arizona ( which is the hardest yet).