Our next video is here! In this video we dive in and take an in depth look at the design and development of the AltRider Skid Plate for the Honda Africa Twin. A Skid Plate is one of the most essential upgrades you can make, especially if you intend to play in the dirt. Check it out to learn more about the many challenges we faced when designing this intricate protection accessory, and our engineers' sophisticated solutions that ensure maximum coverage and clearance. Watch the video and decide for yourself whether this is the best Africa Twin skid plate on the market.
Click above to watch the video, and scroll down for the full transcript.
The AltRider Skid Plate for the Africa Twin underwent extensive testing and development to arrive at a design that offers maximum strength, coverage, and ground clearance while complementing the bike's aesthetics. AltRider engineers embraced the Africa Twin's dirtbike-inspired frame rail, designing the Skid Plate to bolt to four locations on the frame for maximum strength and stability. Additionally, the Skid Plate was designed to allow users to change the oil with the bracket left in place.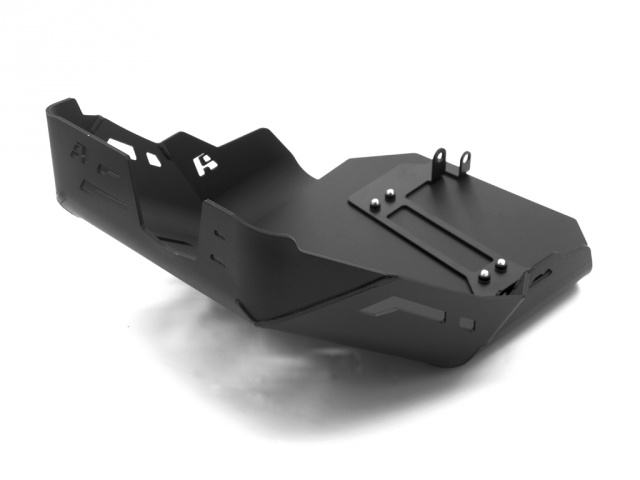 Ground clearance is extremely important in adventure riding, and AltRider engineers designed the Skid Plate to retain as much ground clearance as possible when installed. The smooth bottom of the Skid Plate offers maximum clearance and easy maneuvering over obstacles.
Click here to learn about all of the features and benefits and to order yours today.
Video Transcript:
As you can see we are having a good time with our Africa Twin. In this video we will take an in-depth look at how we engineered our rugged skid plate for this extremely capable and well-liked ADV machine.
Protection
The first job of a skid plate is to protect the vulnerable sump of your motor from rocks and debris. We designed our skidplate to offer the most protection possible to the sump, the sides of the motor, and the headers up front, (short pause) and underneath the motor. We used 4.1 mm thick aluminum which gets craftsman hand-tig welds at all joints and seams to increase rigidity.
The skid plate Extension is a modular add-on part that extends the skid plate protection all the way back to the rear shock linkage. This part is for those riders who are not using a center stand and who want maximum coverage for the underside of their machine specifically the linkage.
The key to the design is the use of two robust rearward mounting points. These mounts are extremely strong BUT just as important, they provide support very close to the vulnerable suspension to avoid the plate bending up into the linkage. We've seen some products rushed to market which didn't take this into consideration and as a result we are seeing reports of failures including the skidplate damaging linkage. The AltRider design extends only 3.75" beyond our rearmost mount point in contrast with some of our competition who have 10.5" of completely unsupported material. This is critical to understand, once you impact 10+ inches of hanging material, it is likely to bend up into the linkage.
The forward part of the skid extension sandwiches to the existing AltRider skid plate bracket, which itself is tied in to the frame at 4 points. The rear of our extension mounts on the left side to the center stand pivot point, and on the lower right side frame mount which is ½" thick. We learned from our (pat pending) BMW R1200 skid plate how effective the center stand pivot is for mounting protection, as it is already reinforced and designed to hold the weight of the bike while the rider climbs aboard. this creates a much more rigid structure for the tail of our skid extension –which is where the action happens as it is that tail that has the job of protecting the vulnerable shock linkage from damage.
Mounting
When talking about ADV riding, our position is "your protective products are only as strong as their mounting solutions". With this in mind we've avoided things like brackets which hang on the frame w/out hardware. IT IS Absolutely critical you understand that if you expect your product to provide protection over time you must through bolt your skidplate to the frame, alternatively if you are just riding to starbucks, non bolted solutions can work, but be aware over time slip fits brackets will fail from even light duty use, once the plate and brackets begin to move from multiple hits the bracket will twist and begin to fail. We used 10 gauge steel brackets with stout flanges to give our skid plate a rock-solid base to mount to. In the rear, our plate mounts with 4 M6 flat-head screws to preinstalled locking nuts making install very easy. The bracket is secured to the frame of the bike with an M10 and 2 M8s as well as the 8mm welded on frame dowel. In order to remove /the plate for an oil change, you only need to remove the 4 bottom and 2 front bolts.
Ergonomics
At AltRider we are riders, so we always think from the rider's perspective. This is where ergonomics come in.
We paid close attention to the rider's potential boot contact points in all riding positions to ensure that our plate never poses a problem when riding, or dabbing (putting a foot down(show the "definition" of dabbing on-screen)) in nasty terrain especially while wearing bulky cold and rainy weather riding gear. We've noticed that some other designs out there don't take this into consideration, building their designs either too wide, or too tall offering potential snag points for boots and pant legs.
We have seen reports that under full compression, during very aggressive riding, the front tire or even the fender can contact the skid plate of some of our competitors designs. We made our design accommodate for this this, and tested it thoroughly to ensure this is never posing a control problem to the rider. There are a number of other designs on the market which do not take this into consideration at all, some even appear to have massive potential for constant snagging or rubbing of the front tire under even mild compression of the front fork. We paid close attention to this while still offering maximum protection to the headers.
We also saw some designs out there which use plastic parts, and an old corrugated design which reduces the CRITICAL ground clearance of your bike by over 1". Honda engineered this machine to have a classic frame 'rails' type design. We took full advantage of the frame rails when designing our skid plate and its mounting system. we use rubber pads in strategic locations to prevent metal-on-metal contact to prevent from scuffing the paint, this approach creates the most ground clearance possible, making it easier to get over logs or other obstacles you may come across on the trail. All of these considerations from the rider's perspective can reduce fatigue by lessening the amount of thinking you have to do, reducing the chances for hang-ups and snags resulting in pushing your bike, and ultimately just letting you stay focused on the ride.
Construction
We use durable 4.1mm thick aluminum with beautiful hand-tig welds made right here in America. The bracket is made from 10gauge steel Check out the AltRider website to see what colors are available for your bike.
We take our design and engineering very seriously so that we can all adventure more confidently. If you have any questions about the product, or even about the bike, hit us up on social media or via email… and as always, Venture On.