Our featured fan of the week is Corinne Hall! Corinne recently joined AltRider ambassador Tamaray Raye at Babes Ride Out aboard their AltRider equipped Triumphs.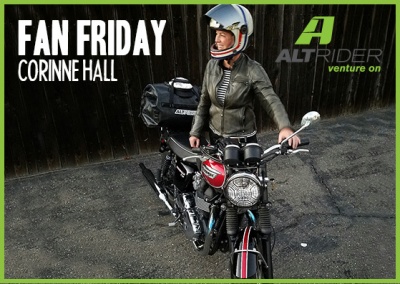 "I first heard of Altrider through a friend when they were doing a promotion, offering items to female riders for Babes Ride Out. I chose the headlamp cover and oil cooler guard (along with the large dry bag). I really enjoy the unique design elements for the oilcooler grill and headlamp cover. It's so cool to have a specialized element to your bike that represents your lifestyle. I have worked in the design industry for many years so to me it is all about the details! The dry bag is self explanatory at keeping all your goods dry but also when creative you can use it for multi purposes. You can use it for a wash basin or for collecting water or a makeshift cooler with ice! Aside from all of that, I love that everything is made in the USA! Currently, I ride a 2014 Triumph Bonneville T100 and my latest adventure was the annual trip to Joshua Tree, CA for the Babes Ride Out....An all female collective ride."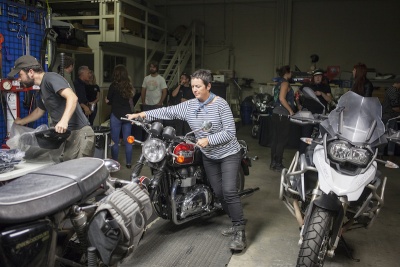 Corinne getting her bike dialed in before Babes Ride Out.

Thanks Corinne for choosing AltRider! You can read more about Corinne and Tamara and their Babes Ride Out adventure on the AltRider blog.