We have the best customers! New ADV rider Connie Topliff is this week's FanFriday! Thank you for choosing Altrider, Connie! We know you will find new roads and new adventures in 2017! Here's what Connie had to say:
-----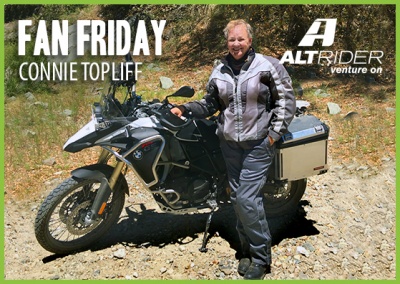 I first discovered Altrider when I was looking for aftermarket parts for my first bike - a 2014 Suzuki VStrom 650. I got the side stand foot for it and the tank pads. I found Altrider through a Google search for adventure motorcycle parts. Altrider parts have excellent fitment, easy installation, aesthetic design, and great protection.
I got a 2016 BMW F 800 GSA last year to replace the VStrom as I wanted a better off road machine that would still perform on road. I've installed the Altrider Lexan Headlight guard and the Altrider skid plate. I put 28K mi on the VStrom my first year. I have only ridden the F800GSA about 8K mi this year - life has interfered..
As in my pups, a Belgian Malinois rescue, GSD rescue & GSD mix rescue.😝
My latest adventures were a 40 mi ride up the backside, service road to Mt. Lemmon outside of Tucson, AZ. And Highway to dirt ride from Benson AZ to Mammoth, AZ up the San Pedro River valley, Cascabel Rd.
I'm looking forward to improving my off road riding in 2017. Would love to take a course! I have a lot to learn & am still building my confidence on the F 800 GSA!