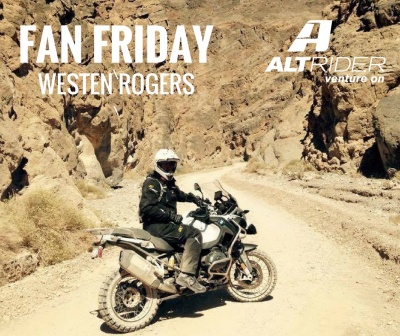 Rogers taking a tour of Titus Canyon on his R 1200 GSW Adventure Photo: Westen Rogers
Time for another FanFriday! This week we talked to AltRider fan Westen Rogers of Santa Rosa, California. Westin's been riding for over 20 years, since the ripe old age of eight.
He currently owns a 2015 BMW R 1200 GSW Adventure, one of our favorite models here at AltRider, as well as a 2013 BMW K 1600 GT. He's outfitted the former with our anodized aluminum AltRider Skid Plate and an AltRider Headlight Guard Kit, which features our stainless steel mesh for high protection but minimal illumination loss.
"There's a lot of reasons I love AltRider products, but the biggest would have to be the reliability factor," said Rogers.
Rogers mostly rides up in Northern California, riding along the Lost Coast in Humboldt and Mendocino counties a couple of times a month and stopping in at Fort Bragg for some pit stops. He's also ridden throughout Europe with his K 1600 GT, and dreams of one day winning the BMW's International GS Trophy, the bi-annual enduro challenge that has been held in North America, South America, South Africa and North Africa and most recently Southeast Asia.
Last year Westin joined AltRider on our annual Taste of Dakar rally and loved the experience. This year's event will take place March 17th – 19th on the all-new route in Gold Point, Nevada.
"I already have my ticket for this year's ride," he said. "Can't wait until March!"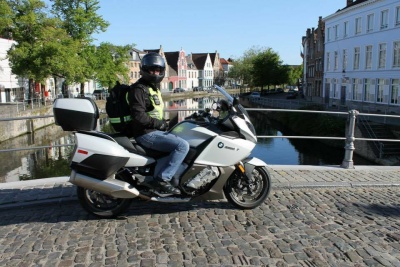 Rogers on board his K 1600 GT while touring Belgium. Photo: Westen Rogers