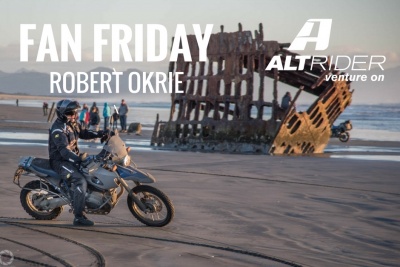 Okrie having some fun on his BMW HP2 in Astoria, Oregon. Photo: Tim Burke Photography
For this week's Fan Friday we sat down with Robert Okrie, out of AltRider's hometown of Seattle, Washington. A motorcyclist for most of his 61 years, he now rides daily for his work commute and escapes to adventure throughout Washington State, Southwest Utah and Arizona whenever possible.
Okrie currently has four bikes in the garage – a BMW G 650 Xchallenge, a BMW HP2 Enduro, a 2011 BMW R 1200 GS Adventure, and a GasGas Trials bike which he highly attributes to helping him become a better rider. As with every motorcycle, each of his machines has its own personality.
"My G 650 Xchallenge was my first dirtbike, but now it mostly sits and whines because I always ride the HP2," said Okrie. "Speaking of the HP2: that thing's more fun than anything you can do out of bed. What a ride! Street or trail this thing rocks so hard you laugh with glee continuously. And the beast is always working like your lazy aunt on her rocking chair - there is so much this thing can do."
In terms of mileage, Okrie is putting his R 1200 GS through its paces, logging 71,000 miles so far. His next purchase will likely be the AltRider headlight guard for the BMW, which he's been eyeing for a while.
"The 1200 GS is the most reliable, dependable, predictable and capable big bike I've experienced," said Okrie. "The sport bike guys can't believe it's in their mirror all the time (they can't get away!). Plus it'll do dirt forever. It's a handful when it gets out of control though, as all the weight comes into play taking you where it wants to go. But fully loaded at over 1,000 pounds, it still acts like a ballerina."
As for his most memorable adrenaline ride, Okrie could think of only one machine: his 1982 Suzuki GS1100E, which he bought brand new. "I saw God so many times we had a personal relationship for the duration. The speedo was FTC limited to 85 MPH, which could be had in first gear. I burned so many tires off the rear... 'Holy Jesus' was my prayer when the throttle was pinned."
When discussing his dream ride, Okrie simply wants to see it all. "I want to retire and travel everywhere. Europe would be first."
We do believe he'll succeed in that mission. Venture on!
Okrie's set up at Cedar Breaks National Monument in Utah. Photo: Robert Okrie