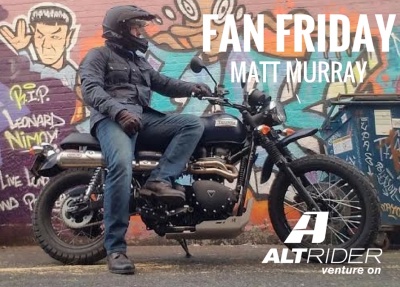 Murray's latest ride is decked out with AltRider scrambler essentials. Live long and ride on. Photo: Matt Murray
Whether the adventure takes you onto the back roads or into the urban jungle, the new era of retro scramblers has you covered. This week we sat down with Matt Murray, 39, originally from Texas. Murray spent 10 years as a U.S. Army officer and another three as a private contractor. He's now in federal law enforcement, and his journeys have taken him to almost every state in the U.S.
Murray has been riding since the age of 16, and he's done several rides on ATVs across Afghanistan. While he's had several bikes, from KTMs to Yamaha's, he's currently straddling a 2017 Triumph Scrambler, loaded with AltRider parts.
"I honestly have never met a bike I didn't like," said Murray. "I like it rustic, I like it rough. And I love bikes you can abuse just a little. I like dirt bikes and street bikes. But mostly the versatility of a scrambler or ADV bike."
His new Scrambler is outfitted with an AltRider skid plate, stainless steel headlight guard and high fender mount, with more to come.
"I think I've purchased every single AltRider part available for every bike I've had," said Murray. "Incredible quality. Great deals."
Murray rides in both the country and urban environments, from forest roads to city streets. He hopes to one day join us our annual Taste of Dakar ride, and we look forward to having him.
"I ride anywhere, really," he said. "I just love to ride!"
As for his riding goals: he has no clear direction. But in our opinion that's half the fun.
"I want to retire and literally just ride aimlessly," said Murray. "Like a gypsy. Point east, and ride until I get back to where I started. But I'd love to ride Nepal!"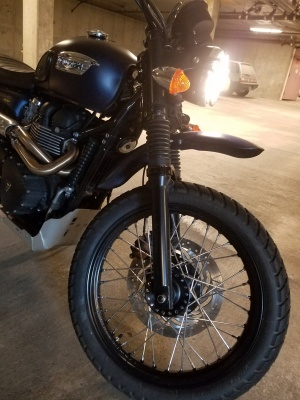 Murray's Triumph featuring AltRider's high fender mount. Photo: Matt Murray