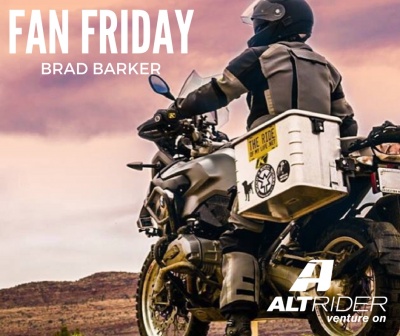 Back in the Saddle Again. Photo Courtesy: Brad Barker
To kickoff the final Friday before our annual Taste of Dakar, we sat down with long time AltRider buddy and moto celebrity Brad Barker, to discuss some of the reasons he first got into the ADV scene and what he's learned while joining us at the last few Taste of Dakar events.
Since he first started tearing up the horse trails in Southeastern Pennsylvania near Valley Forge on a Honda Elsinore MR 50 back in 1977, Barker has been hooked on the two wheel lifestyle. Upon moving out to La Jolla, California, he quickly began taking advantage of the perennial good riding weather and has owned numerous street bikes, including a Ducati 1098S and a Ducati Monster 696 for zipping around town.
But Brad takes riding in a whole different direction than just your average weekend adventurer. After creating The HALO Corporation, a private security consultancy that exists to improve the global community by protecting those who cannot protect themselves, Brad found himself traveling the world's disaster areas while witnessing some of the most difficult and darkest realities our planet currently faces. This led him to start The Ride of My Life, a video documentary series showcasing positive and intriguing experiences around the world, all from the seat of an adventure motorcycle.
Now the proud owner of a 2016 BMW S 1000 RR, a 2014 BMW R 1200 GS and a 2014 BMW F 800 GS, Brad first met Jeremy and learned about AltRider through Jim Hyde, owner of adventure training and touring company RawHyde.
"I fell in love with the AltRider crash bars, for multiple reasons. The alternate angles, the gauge of the metal, the leg positioning. If you're gonna put farkles on your bikes, these are the bars to get. I myself have mounted Rigid D2's, which turn night into day and give you so much confidence. AltRider's crash bars are really good for protecting gear, mounting accessories and making the rider comfortable," said Brad. "I've also been running the AltRider rear racks exclusively since they came out. I love how they double stack on the back of the GS, and you can stick Rotopaxs right on the back, perfectly level. You can just snap them on perfectly like LEGOs."
Brad has been joining the Altrider crew at our Taste of Dakar every year since 2013, and loved it so much that he created a very impressive video on the subject.
"It's a perfect way to meet other riders who have an adventure bike, as depending on where you live you might be hard pressed to find someone to ride with. It's hard to find a good group of solid consistent riders that match your skill level, and Taste of Dakar is designed to address that. What AltRider does is draw everyone into an epic riding location, which usually looks like you're riding through a postcard. Every year there's a keynote speech with awesome adventure riding info pulled right from one of the experts, as well as a good training session. Overall it's just a good weekend where AltRider sets you up with killer places to ride, hooks you up with people to ride with, and lets you learn from the experts."
What other testimonial could we ask for? Thanks again for all the good times Brad and to everyone coming out to this year's Taste of Dakar, we'll see you out there. As always, Venture On.