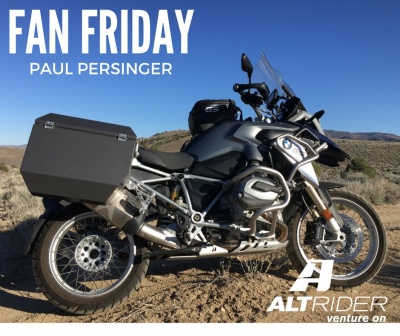 For this week's Fan Friday we talked with Paul Persinger, age 56, of Gardnerville, Nevada. Formerly a bush pilot in Alaska, Paul is an airline pilot for Virgin America throughout the U.S. and Mexico and has been riding since the age of 12. He loves to fly and loves to ride motorcycles, and has fond memories after decades of owning bikes from virturally every motorcycle manufacturer.
"It's kind of in my DNA as both of my parents rode and raced motorcycles," said Paul. "My riding experience includes some racing....flat track, enduros, hare scrambles. In 1987 my Dad and I were the first father and son to compete in the Iron Butt Rally with me finishing 5th and Dad in 6th. I love traveling on my bike with no daily goal other than to watch the odometer count up the miles and to watch the scenery go by."
Paul currently rides a 2015 BMW R1200GS, which is also his favorite bike ever. "I've always been a big fan of the boxer engine, and this version has really captivated me. The power and technology is intoxicating. Select an engine drive mode and suspension setting with a couple of buttons and the bike is marvelous on pavement or bombing the 100's of miles of dirt backroads in Nevada. It's a bike with broad capabilities."
After purchasing the GS, Paul knew he needed better engine and body protection. "After some research it was obvious to me that Altrider nailed it with the Crash Bar and Skid plate system. What I really like about this system is it's unique design. There's nothing "add-on" about it...it's absolutely integrated into my motorcycle. Incredible peace of mind knowing how much protection I have around the heart of my bike. I also have the Altrider Headlight Guard. If you price a new LED headlight you really see what a great value that part is. It's super easy to remove and clean; a great bit of insurance that just looks awesome."
Since moving from Alaska to Nevada, Paul has found himself spending most of his time in the saddle up in the Sierra Nevada mountains. "I'm fortunate to have some of the best mountain riding there is so close by. A few days off and I could be on the California coast and in the wine country. I don't get out in the dirt as much as I'd like too, but plan on doing more of that in the future. I also do at least one trip a year to Washington state to enjoy the Cascades and Olympic Peninsula. This July I'll be doing a solo trip to Alaska riding the more coastal route north out of Vancouver and the Cassiar Highway."
Paul plans to attend the 2018 Taste of Dakar and dreams of one day heading to South American to ride with son, Christopher, and chase the Dakar.
"The vibe of a huge event like this coupled with the culture and beautiful yet challenging countryside makes this my ultimate ride. Of course once I did this, something else would become the dream, right?"
Absolutely - everyone can. We hope you all have an awesome riding weekend as always, venture on!