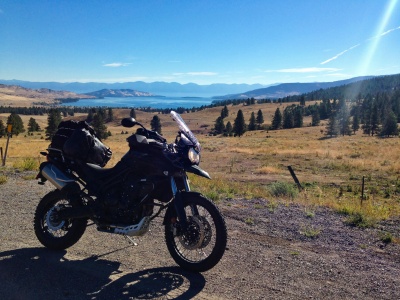 Out there on the Triumph Tiger 800. Photo: Nicolas Solberg
Friday is our day to celebrate our fans, and they never seem to disappoint. This week we talked with Nicolas Solberg, 51, of Northern California. Originally from Bigfork, Montana, Nicolas now works as a web developer and visual designer for the State of California. And he's a Triumph fan, rocking a 2013 Triumph Tiger 800 XC.
Nicolas has been riding for decades, since the ripe old age of 16. Back in '83 he bought his first bike and soon became a motorcycle messenger. Aside from the Tiger, his two most recent bikes have been a 2005 Yamaha FZ1 and a 2004 Suzuki V-Strom 650. But he prefers the Tiger, primarily for its flexibility amongst riding conditions.
"I love 'do it all' bikes, but the engine is always what sells me," said Nicolas. "My Tiger puts a smile on my face whether I'm carving up the backroads, bombing along fully loaded on a long tour, or tearing up the dirt. The engine is a hoot. I've ridden mondo horsepower bikes, but for an ADV the Tiger is plenty; in a way it's the perfect blend of my previous bikes combined."
To protect that perfect blend, Nicolas trusts AltRider.
"I immediately got AltRider crash bars because I learned quickly replacement parts aren't cheap or tough on any bike; AltRider got great reviews and was American made 'ta boot. After getting more serious off-road with the Tiger I added the AltRider skid plate and man do I hear the big rocks pinging off it constantly. Since then both have saved my bike multiple times, and they've made me an AltRider fan."
Living in Northern California, Nicolas is fortunate to have a ton of great riding areas close by. He loves taking the Triumph to the Pacific coast, all around the Sierra Nevadas (including Yosemite and Lake Tahoe), and the Mohave.
"There's a zillion great backroads and off-road trails just a couple hours away in any direction. My only preference is the road less traveled (paved or dirt), often neglected, so there are fewer motorists and more curves and more spots to take photos," said Nicolas. "When time permits, I love multi-day treks through nearby states to various parks - camping if possible and finding the best food and drink locally."
That being said, Nicolas is also setting his sights on some of the best roads around the country. New Zealand, Chile and Argentina are all on the bucket list, as well as the fjords of Norway. If he manages to get enough time off work, he's also looking to join AltRider at this year's Conserve the Ride event, happening in Blue Mountain, Pennsylvania.
We hope to see you out there Nicolas! It's riding season, so get out there and venture on!