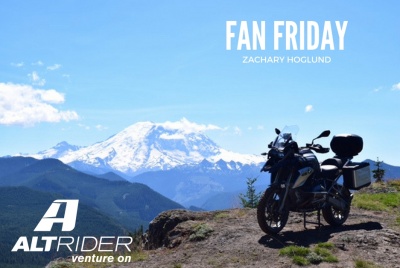 Mount Rainer makes a nice backdrop for Zachary's BMW R 1200 GS
For this week's Fan Friday we sat down with Zachary Hoglund, 28, out of Bozeman, MT. After a seven year stint in the Navy, he was drawn to the place mainly for the climate and excellent adventure riding. Since riding dirt bikes as a kid he joined the ADV movement four years ago, and is now the proud owner of a 2015 BMW R 1200 GS and a 2016 Honda Africa Twin.
"The 1200GS in my opinion is the most versatile motorcycle on the market. It's comfortable on the highway, excellent in the twisties, and loves to play in the dirt. If somebody told me this is the last motorcycle I would ever own I would be completely happy," said Zachary. "The Africa Twin is the perfect off road adventure bike. With its off-road sized tires (21" front and 18" rear) low center of gravity and torquey engine, riding off-road is an absolute blast whether it's on a forest service road or single track."
He's currently rocking the AltRider DualControl Brake System on his R 1200 GS. "The Dual-Control was the item I never knew I needed until I heard about it, and once I put it on I can't imagine riding my GS without it. A very well designed, solidly built, and useful product."
Zachary enjoys riding anywhere isolated and beautiful; along the coast, forest service roads, mountain passes, quiet country roads. "If I had to choose one though, it would be forest service roads because the ride is fun, the scenery is great, and you can go for hours without seeing anyone."
He dreams of hitting the Pan-America Highway all the way from Dead Horse, Alaska to Ushuala, Argentina. That's a dream we can all get behind. Ride safe this weekend and as always, venture on.