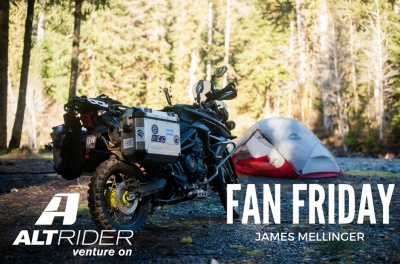 The Tiger 800 makes a perfect camping companion. Photo: James Mellinger
It's riding season! Happy Fan Friday to all. This week we sat down with good AltRider friend and fellow Seattle resident James Mellinger, 26. Originally from the suburbs of Chicago, James spent his college years in the city while attending Columbia College of Chicago for Photography. After graduating in 2015 he moved out to Seattle and has been loving it ever since.
James works at Triumph of Seattle, right down the street from AltRider HQ. A bit of a jack of all trades, he splits his time photographing new products and bikes as well as helping customers build their dream bikes and getting set up with the right gear. A rider since before he can remember, James started racing motocross when he was 4 years old, and 22 years later is still at it. "I have the aches and pains to prove it, but it's a thing I will never give up," James said. He's ridden almost every displacement KTM in the SX line, and currently owns a 2015 KTM 250 SX as well as a Triumph Tiger 800 XC, which he just got after trade in from a Bonneville T100.
"I sure love the Tiger. I've done everything from commuting to single track to a track day even! Such a great bike," said James. "To put it in perspective when I owned the Bonne I put 8000 miles on it in 5 years. I've put 4800 miles on the Tiger so far and I've owned it for 10 months."
When we asked him to elaborate on the qualities of each ride, James responded: "My favorite thing about the Tiger is that it has handled every single thing I've thrown at it so far. I've never had as much fun as I did this summer chasing (Triumph of Seattle owner) Garrett through single track on his ridiculously amazing customized Bonneville. And then you throw some panniers on the Tiger and you're all set for an escape from the city into the Olympics. Pretty much the only time I won't ride it to work is when I really just want a cappuccino on my 4.7-mile commute. As for my KTM 250 SX, it's just so much fun ripping around on a bike that is barely above 200 pounds and sounds amazing. It's hard not to smile on a two-stroke. Not to mention I can tear the 250 down to the frame in a night and still put it back together. I think if I tried to do that on the Tiger I would show up at the shop with my bike in boxes not knowing where all of the wires go. It's full of so much technology with ABS, traction control, ride by wire throttle, EFI, cruise control, riding modes, shoot even an actual fuel gauge. The 250 has a carburetor, a single spark plug, and a kick starter. As long as those three parts get along I'm fine."
James has been slowly accumulating AltRider parts for the Tiger. He started with AltRider's Luggage Rack, followed by AltRider Crash Bars.
"First was AltRider's luggage rack that offers so many more mounting points and just the sheer amount of surface area made it an easy decision. Next came AltRider's phenomenal crash bars. I've tested them rather well and they have never failed me. When you have a 28" inseam on a regular height Tiger and ride it off the beaten path you're bound to drop it. Or you know, you are too tired in the morning and drop it pulling out of your parking spot. That too. Once I hit 6,000 miles and need to do my first minor service I'll swap out my bent and beaten stock skid plate for the AltRider Skid Plate. And I really should pick up AltRider's Headlight Guard because you can't order the headlight lens separately and they are not cheap. And Heel Guard, Dual Control Brake System, Hemisphere Tank Bag... the list goes on. By far my favorite AltRider product has been the crash bars. Smashing your tank is one thing, but smashing your radiator is another. No one wants to blow up their bike."
With his experience, there's really not many places he doesn't love riding. So far getting the Tiger lost in the Olympics on dirt roads and random offshoots is one of his favorite activities. He also enjoys taking his dirtbike to Motoland, a motocross track in northern Indiana.
"The track is all sand. It's built on an old military armory where they built and tested grenades. The track is so long that they actually split it in half most of the year and run both tracks at once. The back one is a little more flow-y while the front track is more technical with a huge step-up double followed by another step-up. I actually tore my ACL in that section by getting landed on and ran over... that was fun," he said.
James dreams of doing an epic adventure with the Tiger taking off a few months and just going around the world. "You meet so many lovely people along the way and I like share their stories through my photography."
We can't wait to see the images when he does it. To everyone hopping on their bikes this weekend, stay safe and enjoy the ride.