This Fan Friday we've got David Bock from Littleton, CO and he's been on a bike for about 10 or 11 years. Before he was serious about riding and when he was a kid his next door neighbor had a little YZ60 that he and friends would ride and rip up any vacant lot or construction site they could find. Then as a teen he would cruise around on a XR400. David didn't look at bikes again until about 2008 when I found and fell in love with a '04 R1150R Rockster. Once back on two wheels he found that he was really missing the dirt and went to a BMW 800GSA and finally settling on a BMW 1200GSA.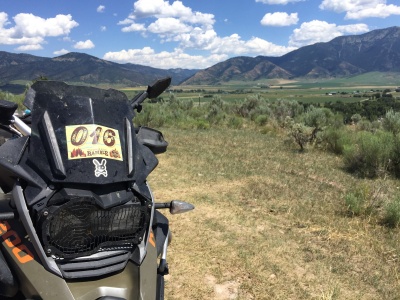 David says Playboy did an article about the R80G/S for the 1982 Paris-Dakar Rally and he was totally dumbfounded and awestruck – what a bike! Now he rides a
R1200 and feels the ergonomics and boxer engine just makes you feel like you're on a mission and you're going to accomplish it! To add to the impressive capabilities of the R1200 David had a freak-out moment he was when going over Guanella Pass in Colorado. As he leaned into a corner rapidly approched an adult bull moose, dripping wet and meandering directly across the path. Straitening up the bike David locked the breaks and the ABS brought me to a rapid stop. A scary moment, but all ended well. David is hoping for an adventuresome route from Colorado to Wisconsin this year for the next GS Giants Rally. Olympic National Park holds a special place for David, saying he could stand to get lost up there for weeks.
When he was younger David would always ride off road – even road a quad as a young person. But when he was on the bigger ADV bikes he went to RawHyde Adventures to learn off-road technique. That was the beginning of starting to learn about the advantages of AltRider for David. From there he's done a lot of research and says AltRider parts are bomb proof and have proved their worth numerous times with seamless fitment. Because of all that David has his bike decked out with AltRider gear.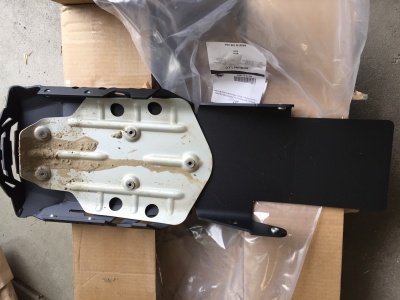 David's photo comparing the meager OEM skid plate to his AltRider skid plate for his R 1200.
David really wanted this photo to be in his Fan Friday and since we love all our fans I'ved added it at his request. David's beautiful R1200 in front of some epic scenery.