This Fan Friday we have Matt Krysinski from Washington state. Matt and his girlfriend Susan often ride together and go on weekend get-a-ways when possible. Last season they rode 12k miles and usually go camping for the weekends or evening rides to just get away during the summers nights. Matt rides a 2016 Yamaha Super Tenere and Susan rides a Yamaha FJ-09 set up for touring as well.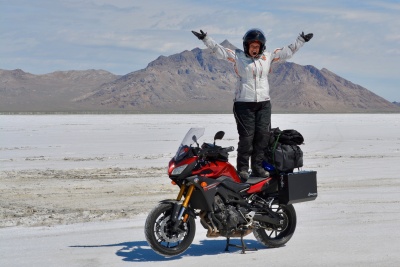 Matt has been riding for about 15 years and transitioned to ADV bikes from cruisers to give him better access for one of his loves: photography. ADV bikes can go where all the beautiful scenery is! In 2016 Matt and Susan got away for a 1200 mile trip through Central Oregon and they were totally hooked on traveling on our bikes. For 2017 they made a 4,000 mile route in 14 days from Seattle to Monument Valley Utah and back and absolutely loved it and a total of 13,000 in 2017.
Matt has the AltRider 38 Liter Dry Bag he bought when he bought his Super Tenere. He uses the dry bag for traveling on our road trips and go camping and says he loves the ruggedness and simplicity of the bag. Using the bag was perfect for his sleeping bag, clothing and other items that needed weather protection from the rain elements, plus the bag fits perfectly on his backseat and easily cinches down.