Way back before we launched, we were trying to decide which parts we should develop first. Side stand feet seemed like an obvious choice, because everyone needs one – they're almost a necessity.
Now that we've got three finished and more on the way, I surprise people when I tell them that our side stand feet were some of the most difficult of the AltRider products to design.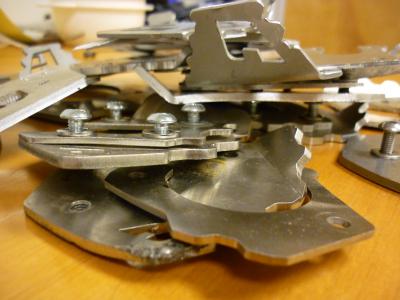 Why? Side stand feet receive a lot of action. Over time, they get scratched up and often bend and become rattling annoyances. We wanted to come up with something better, so we started by evaluating three variables:
Materials. Side stand feet are sometimes made from steel, aluminum, or a combination of both.
Thickness of the metal. We want side stand feet to be durable, not clunky.
Hardware. Smart use of hardware can create a better fit and less rattling later on.
Even with only three variables, prototype testing was a long and complicated process. We decided to use 1/8 stainless steel for the bottom plate to keep the foot strong and rust-free. We went with Torx fasteners to clamp down our side stand foot on the actual foot of the bike, so it would remain tight after months of use.
During our product testing, we were also able to solve a common issue – the awkward ergonomics of deploying the side stand. We created a 3D design that allows you to grab the foot more easily with your boot, so you can effortlessly deploy it while you're on the bike.
Looking at one of those side stand feet, it might not be readily apparent how much thought and testing went into its design. That's okay. Our goal was to create a quality product that would enhance the riding experience – and in that, I think we've been successful.