What do conga lines and motorcycles have in common?
Flo Fuhr.
This Canadian rider started a mini-movement a few years ago, back when she was first learning to ride. Now, the Conga Line is an annual event and this year is raising money for breast cancer research.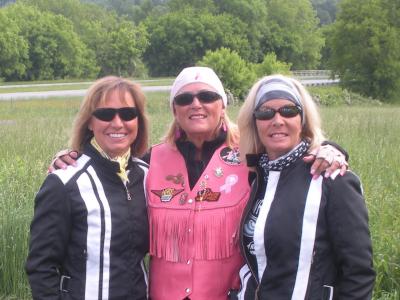 It all started when Flo's husband came home with a motorcycle and asked her to hop on the back. After a few trips as pillion, she took a safety course and began riding her own bike. When Flo decided she needed a different ride, she bought a bike from Donna Palladino from the Ride Like a Pro DVD series. One of the conditions of purchase was that Flo come down to Florida to get it, then ride back to Vancouver Island. She agreed, and mentioned the plan on a motorcycle forum. Women from all over the United States offered to usher her through different parts of the country, and the Conga Line was born. Now in its third year, the Conga Line has adopted breast cancer research as its current cause and is raising both awareness and money.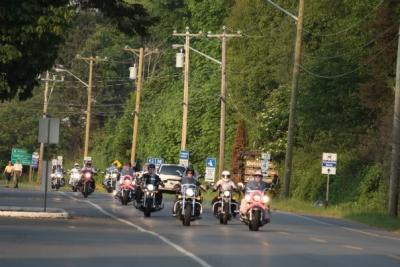 Participants organize people in their area to join the local Conga Line. Riders can go for part of or the entire route . The riders wear as much pink as they can layer on because that's the way to start a conversation, Flo says.
"When we're on the highway, especially all dressed in pink, people are always smiling, honking, waving, and asking questions about what we're up to. Of course, that's our key," she said. "We don't bother anyone unless they smile at us first."
Flo and the other riders explain they're raising money and awareness for breast cancer research, and that all the money goes straight to the Canadian Breast Cancer Foundation and the National Breast Cancer Foundation. Not a penny goes to sponsoring the men and women who choose to ride – they donate their time and expenses to the cause. People respond with everything from gratitude to donations to stories of their own connection to cancer.
"The hard part for me is constantly talking about illness or death," Flo admitted. "It is amazing how many stories of breast cancer we hear on the road. The gratification comes from the survivors and the thank yous we get for doing what we're doing."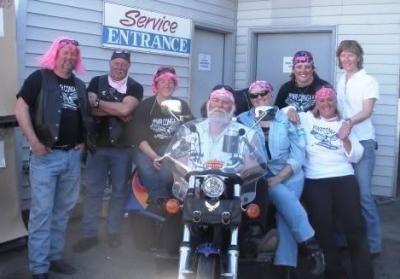 Last year, the Conga Line raised $12,000 and Flo has high hopes that this year they'll raise even more. One group of riders will be starting out in Campbell River, British Columbia, while U.S. teams will head out from different parts of the country.
The Conga Lines will arrive in Cheyenne, Wyoming, between July 7th and 10th to celebrate.
"I never considered myself someone who can make a difference in the world," Flo said. "But now I feel I've contributed to making a difference, and that's what keeps me going. That, and meeting all these amazing ladies and men who come out."