When you find yourself daydreaming about your epic ride, what do you see?
Perhaps you're navigating the tricky Dempster Highway on your way to Alaska. Maybe you're attempting a round the world trip like good ol' Ewan and Charlie (or Tormod and Klaus, if you're into traveling The Dumb Way Round). Or you might just be having fun on your own turf.
In any of those scenarios, I bet luggage was not a big part of the dream. Let's face it – that's not what you want to worry about, but it is something you'll need to consider. Whether you're doing a day trip or something a little longer, it's always good to bring a few things along.
Luggage racks have long been in product development at AltRider. One of the first things we prototyped, we have just now started manufacturing them for the Ducati Multistrada 1200 and the BMW F 800 GS. Why? Because we wanted to make sure we had a good solution that went a little beyond what's already available.
We started with hook studies.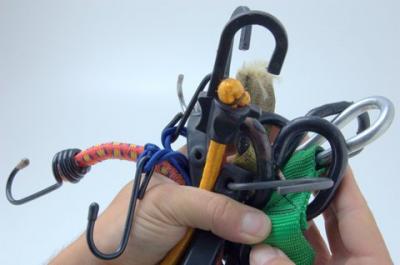 We know from past experience that luggage that looked easy to attach proved difficult once the full load was on. Sure, there might have been holes in which to put the hook, but the result was not a secure engagement. Often the hook couldn't fully seat into the hole because of interference or the angle of approach.. We collected many differing hooks -- from tie downs to bungees -- to develop the hole pattern in the side flanges of the luggage rack. We went through a lot of variations and a lot of prototypes before we were happy with the result: an easy, consistent engagement of a variety of hooks, even when strapping down a full load.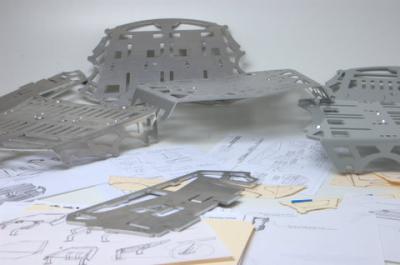 When we finally settled on a design that allowed for different types of hooks in varied configurations, we asked what we could do to make it a little better. First, we wanted to create an interface for the popular GIVI Monokey top cases – a great top case solution for the price. Check! Second, we decided it would be a good idea to incorporate an interface for Rotopax, which is a system that allows you to easily attach gas packs, water packs, and extra tools. Rotopax are practically indestructible, and they never leak at the cap like so many gas packs do.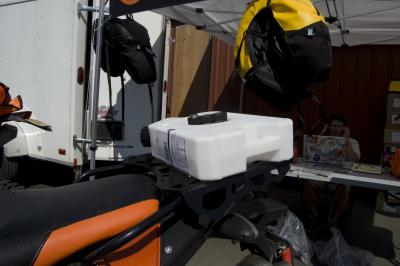 We put in a lot of research and thought into our products, trying to make each one as useful and well-designed as possible. The new luggage racks are more versatile than many currently available, so no matter the situation, you'll already have the solution. Hopefully, that means one of our luggage racks will join you on your next epic ride!