Special guest post by Andrew Phillips of New Hampshire
AltRider put on a riding event for the benefit of the Seven Mountains Conservation Corp (SMCC). It was called Conserve the Ride and held over the weekend of June 22-24 near the Woodward Caves in Central Pennsylvania.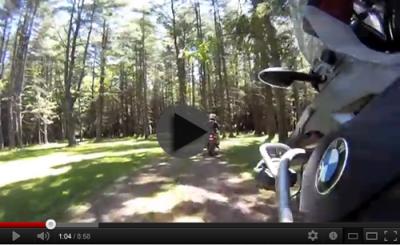 The whole weekend turned out to be a lot more fun than I anticipated. I knew that I would have a good time and enjoy the riding, but it went far beyond my expectations. The folks at AltRider (Jeremy, Brianna, Nancy, and Erik) ran a very well organized event from all aspects. The Seven Mountains Conservation Corp crew did a super job creating the routes, as this event was held in their hometown riding spots.

Before I left New Hampshire for Pennsylvania, I had made plans with Paul to meet at the border of New York and Pennsylvania at a diner for lunch. Paul and I hadn't met before, but we saw that we were riding from the east on a posting about Conserve the Ride on the forums. Through that, we met up at the Village Diner in Milford, PA. It's just a nice little diner I like to stop at whenever I'm passing through that area.
Paul and I met and had a nice lunch. It turns out that we both wear the identical watch and have the same Aerostich riding suit. Go figure. Anyway, we decide that our original plan of taking state routes to Woodward Caves will not get us there before registration closes at 5 PM. We were forced to climb on the Interstate and hightail it for the campground. The great thing about the big dual sport bikes built by Germans and Austrians is that they are made for the Autobahn as well as the woods roads. I ride a BMW R1200GS Adventure and Paul has a KTM 990 Adventure R. We got caught in one heavy summertime rain shower while on the super slab. It soaked us but we pressed on and were dry again by the time we got close to camp. The rain actually felt really good as it was well over 90˚F that day.
We arrived at the campground at the very end of registration time. It left us with just enough time to get our tents set up in daylight before heading over to the location for dinner that night. It was a short ride through Amish Country and dinner at a VFW hall. The hall put on a great spread and, of course, they have a bar that has reasonably priced beer and a variety of cocktails. And since it was Pennsylvania, "lager" simply means Yuengling beer. I'm all for that! Just like the old time movies where the cowboys walk into a saloon and just say, "Give me a beer."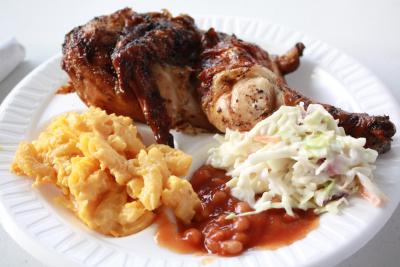 After dinner, SMCC put on a really nice little show for us. They had a small EnduroCross track in Matt Spigelmeyer's (one of SMCC's founders) back yard. Several of the SMCC club riders had a friendly competition on the track. It was really enjoyable to watch the guys hit the obstacles and show their skill. And these guys were good! Aaron Kopp was there, and his dad, Ed. These guys have been part of theInternational Six Days Enduro. If you don't know what that is, you ought to. Aaron represented the USA on the trophy team 3 times. He was one of six riders from the USA to compete against the world. He's that good and a super nice guy, too. I was lucky enough to have Aaron as the group leader the following day.

At the Friday night 'races':
And then the ride was organized and we were off. The riders were broken up into smaller groups of 5 or 6 riders each with a guide from the SMCC club. My group was led by Aaron and included Peter, Ed (not Ed Kopp), and Paul. The first hour or two was spent on some really scenic farm roads.
A little later in the morning, we got to the dirt roads. There were some dusty open roads to start with. It was a benefit to be close to the front of the line of bikes just for the benefit of less dust from the sandy roads.
Just before the lunch stop, we hit Option 0. This was the first taste of more rugged terrain and a flavor of what was to come after lunch.

Lunch was another fully catered affair at a state park in the mountains. It was a great location and we had a pavilion all to ourselves. Another great result of the planning and forethought by AltRider.
After lunch, our small group chose to take Option 1 and then Option 2. Riders could choose to bypass the optional sections on the 'scenic' roads, but we as a group decided to go for it. As I believe Samuel Clemens had said, "Regret the things you do, not the things you don't do."

Well, the route got pretty tricky quickly. Ed Kopp said that he reckoned it was 1,300 feet of elevation drop in a few miles along the route. These can be imagined as Jeep roads that were probably cut into the woods many years ago. I put the electronic suspension adjustment of my BMW GS Adventure on its mightiest off road setting. And I needed it. The road was rough.
Option 2 was completely different. It was a mud bath. It, too, was a lot of fun. We went through the deep puddles and then turned back again for more. The trick of riding big bikes in tricky conditions is to keep momentum and stay on the gas. Once you've lost the drive, the bike is done. Let it track where it wants to and keep up a little bit of speed for momentum. The bike wants to stay upright on its own. Don't fight it. It was a total blast in that section.
Dinner at the campground that evening was another great meal complete with a roasted pig that came in on a BBQ trailer. Here's Nancy and Brianna setting up the food and making sure everyone is well looked after.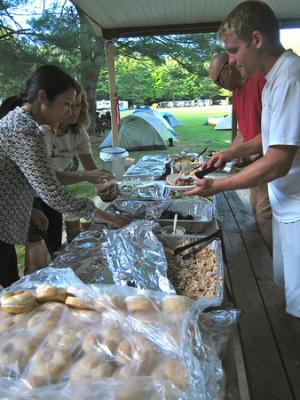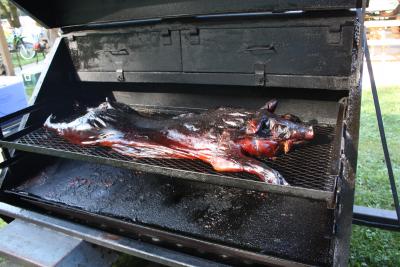 Here's Paul putting more air pressure back into his bike's tires for the trip home. We had aired down some for the off road riding.
A close up in case you missed it in the prior photo…after all, it was day's end.
For an added treat, Aaron gave a talk and slideshow presentation about his ISDE experiences. It was inspiring.
It really was a highly enjoyable weekend. Not only was the riding and scenery great, it was the people that made it special. The AltRider and SMCC crews were extremely helpful and gracious hosts. I made a couple new friends that I have kept in touch with since the event. I'm certain I will ride with them again in the future. And that's what it's all about...community. The bikes bring us together, and then it's the people that make an event great. I give big thanks to AltRider for organizing and hosting the event and to SMCC for making such excellent routes. It was a winner in all respects.