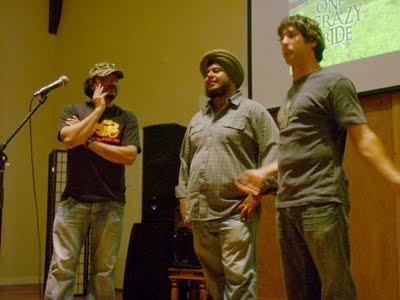 What an amazing evening! Over 130 Seattle motorcycle enthusiasts and adventure lovers filled the Fremont Abbey Arts Center, and joined AltRider along with the Indian filmmaker Gaurav Jani and his travel companion and "crazy" rider Sobby, for the screening of Gaurav's second movie, "One Crazy Ride."

It's always fascinating to hear and read about other riders' world travels - the roadblocks they encounter, the exotic places they visit, the interesting people they meet, and what they learn about themselves and the world along the way. In Guarav's case, the commitment and challenges of self documenting the journey and making a full length film, takes motorcycle travel and movie making to the next level. His films inspire thousands of people around the globe. An impressive accomplishment for someone who refers to himself as an "unemployed film maker."

"One Crazy Ride" was inspirational, culturally educational, funny, and unbelievable at times. To begin with, I couldn't get over the fact that Gaurav was riding a Royal Enfield, a bike that doesn't have off-road suspension or dual-sport tires, through some of the most un-traversable terrain in the world. I didn't say "roads" because for the most part there were no roads, just tracks, if they were lucky. (Hence the name for his film company - "Dirt Track Productions.") So much for the absolute "necessities" that we in the West associate with off-road motorcycle travel. These guys didn't even have a GPS while traveling in places that are hardly marked on the map.

Then, there was the crazy sequence of Gaurav riding across a long suspended bridge that would have been scary to walk across, much less ride on. You couldn't help but ask yourself what was going through his mind as he was approaching this "road block." In the post-movie Q&A, one of the guests did ask about that, and from what I gathered, the answer was "you just do it." Having been in similar situations (not that extreme of course) on my moto trip from Seattle to South America, Gaurav's answer rung true. Most of the time on the road, there is no other option but to put your fear aside and just do it. The truth is that's one of the most rewarding and invigorating parts of adventure motorcycle travel - overcoming your fears and personal limitations.

Gaurav's film had all the components of a great adventure motorcycle movie. The gorgeous photography, the shots of the heavenly clouds above clouds, the twisty mountain switchbacks and the compelling cultural details were indeed impressive. But apart from all that, what really touched me was the message of this film – in order to truly experience life, one has to do something crazy once in a while, because that's what it means to be human and to be alive.

Thanks again to everyone who joined us and thank you to Gaurav for letting AltRider organize the Seattle screening of this movie. A truly wonderful evening!