If you haven't already heard, there is a proposal currently being debated to make small displacement European motorcycles substantially more expensive here in the U.S. We at AltRider believe this will be harmful to the American motorcycle industry, especially hampering the growth of our sport amongst young dirt bike riders who dream of one day taking their own adventures on the ADV and scrambler bikes we know and love.
So what's going on? In short, the debate started over the European Union's limits on importing American beef products. To recoup some of those losses, the American beef lobby is proposing a 100% tariff on a long list of food products currently imported from the E.U., as well as on motorcycles and scooters of European origin with displacements between 50cc and 500cc.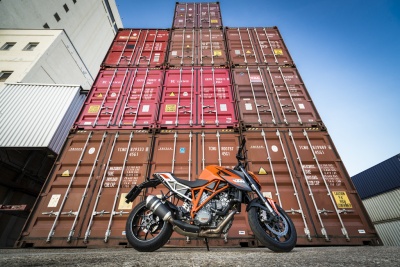 Proposed tax could double the cost many KTMs, amongst others. Photo: Bjoern Gramm
The impact would be far-reaching, and not just in the U.S. While the cost of smaller bikes and scooters created by BMW, KTM, Triumph, Ducati, Husqvarna, Vespa, Aprilia, GasGas, Beta and Piaggio would likely double overnight here in the States, the prices of all motorcycles created by these manufacturers, both in the U.S. and around the world, would likely increase to offset the losses in sales that would ultimately result from a smaller U.S. market able to afford entry-level machines.
Such a decrease in sales in the United States would also have a direct impact on thousands of motorcycle dealerships across the country, which may result in multiple dealerships closing, and many motorcycle mechanics, fabricators, salespeople and support staff losing their jobs. That also means fewer shops for motorcycle enthusiasts to visit to purchase new bikes and gear, or to get their bikes serviced.
This would not be the first time a tariff on foreign motorcycles was put into place, but it would be the largest tax percentage in the history of U.S. motorcycling. As MCN notes, "Back in 1983, as recorded by the New York Times, President Reagan introduced a 45% import tariff on Japanese motorcycles over 700cc to give breathing room to a struggling Harley-Davidson. With the help of the tariff, HD bounced back into profit and the tariff was dropped in 1987." This is also not the first time the beef lobby has proposed a tax on European motorcycles to help recoup their losses. Back in 2008, a similar proposal to tax small EU motorcycles was struck down after the motorcycle community spoke up and opposed it.
The time for public comments to protest the proposed tax ended on January 30th, so at this point we, like you, must wait and see what happens. But for the record, to all of our fellow riders across the country and around the globe, we at AltRider are against a tax that would affect millions of motorcyclists and have an untold ripple affect across our industry. While we pride ourselves on making products here in America, sourced from American raw materials, we love all motorcycles, regardless of their origins.
Keep a positive outlook and as always, venture on.
- Jeremy LeBreton, President, AltRider