It's a weekday, you're in your office, and you take a minute to daydream about the vacation time you have coming up.
What does it look like? Sunshine, a beach, cold beverages delivered to your lounge chair?
Or maybe it looks like the AltRider version: dirt, canyons, and seemingly impossible challenges in the scorching desert heat.
If that sounds appealing – and why wouldn't it? – you should join us at this year's Adventure Rider Challenge in Castaic, California. One of the most difficult competitions in North America, it's two days of canyoneering, trials-style arenas, teeter totters, suspension bridges, and more.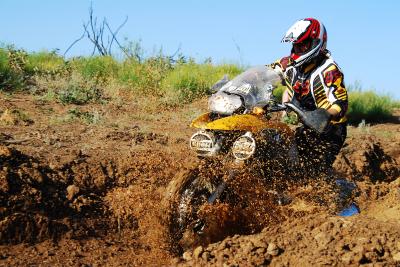 It is also this year's qualifier event for the second biennual BMW International GS Trophy. Winners of the ARC-X will head to South Africa as Team USA, where they will face the best riders from across the globe.
Jeremy, Jacob, and Paul will be heading down to California the last week of April to participate, and they're excited.
"It's pretty crazy to do these on large enduros," Jeremy said. "You don't ever see these bikes doing this sort of stuff. The teeter totter is fun, scary, but not that bad if you know what you're doing. On the other hand, the suspension bridge is nuts. All the fundamentals of balance are gone."
So what are the guys doing to prepare?
"Well, to get ready for it I had planned on hitting the gym and the dirt as much as I can beforehand," Paul said. "I injured my leg and spent all winter on the couch, so this is great motivation to rehab and get back in shape. Instead though, I've been on a strict regimen of sitting around, eating, and drinking beer."
Jeremy is being a little more active by running on weekdays and riding on the weekends, while Jacob is trying to design the best motorcycle protection possible so he's ready for whatever happens at the challenge.
"I don't know too much about the ARC, but I do know a couple of things and those things make me excited and nervous," Jacob said. "There will be swinging pendulums of doom – Indiana Jones style – and railroad tie teeter totters. It will be mayhem… and a heap of fun. I honestly can't wait."
Will you be heading down to Castaic to join us? You can register for the event, or follow our adventure from afar via Twitter.
Hope we see you there!