Looking to expand on our Modern Classics line of off-road accessories, Altrider reached out to a group of influential women in the Triumph community who happened to be attending the 4th annual Babes Ride Out event in Joshua Tree, CA on October 20-23. This four day event is put on by Anya Violet and Ashmore Ellis, and over 1200 motorcycle girls get together to party and camp in the desert.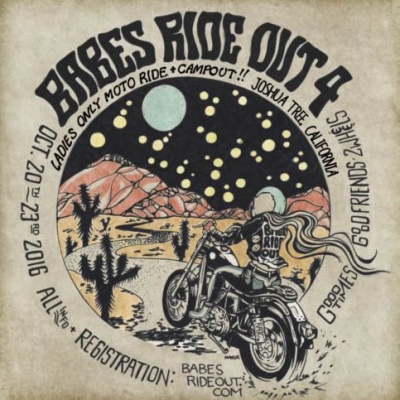 Altrider president Jeremy LeBreton organized an installation party for the girls, providing them with a variety of parts for their bikes including skid plates, headlight guards, and SYNCH dry bags.
"We saw this as an opportunity to outfit some bikes destined for the desert, and also introduce some more folks to the AltRider brand," Jeremy said. The event took place at MotoQuest Headquarters in Long Beach, CA. Motoquest is an adventure touring and rental company, and they equip their fleet of bikes with AltRider protection pieces. Plus, MotoQuest's own Robin K. (RoKo) was set to attend the Babes Ride Out.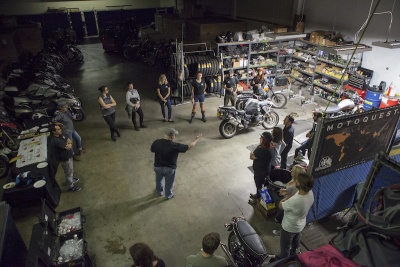 Jeremy flew down to Long Beach to the MotoQuest shop to host the ladies and show them how to install the parts on their bikes.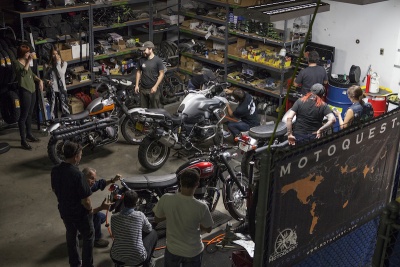 After introducing himself and giving the girls a quick back story on the Altrider brand, it was time to get to work!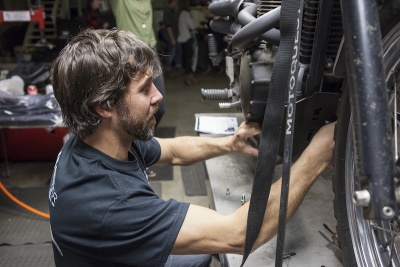 Kristine Gulliver of the female riding group Flat Black Collective, came all the way up from San Diego to get her new skid plate and headlight guard installed on her 2008 Triumph Scrambler.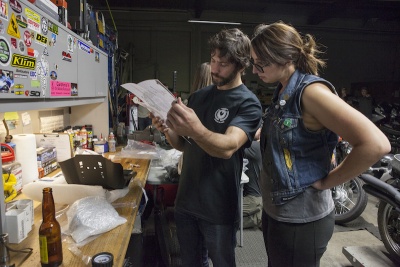 "I've cracked my oil filter a few times on gravel roads, so I had been wanting a skid plate for some time now," says Gulliver. "When I saw that Altrider offered one that was made in the USA, I knew I wanted it."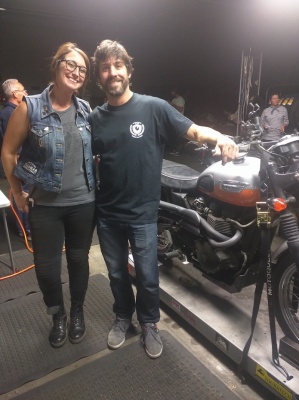 Corinne Hall, another rider heading to Babes Ride Out, was really excited to add some modern touches to her 2014 Triumph Bonneville T100.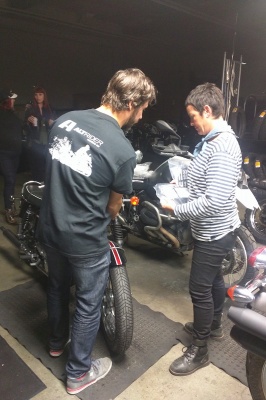 "I knew there would be a lot of gravel and rocks getting kicked up on the way out to Joshua Tree, so protecting my headlight and oiler cooler was a must," she said. "Thank you Jeremy for showing us how easy it was to install the headlamp cover and the oil cooler guard, they look awesome!"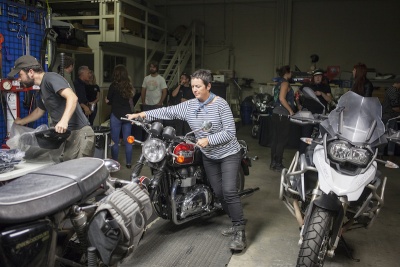 The last Triumph at the installation party belonged to official Altrider Brand Ambassador Tamara Raye. Tamara is a very well known member of the british customs community in Long Beach. She also plays bass in the band WARGIRL, who would go on to perform Saturday night at Babes Ride Out.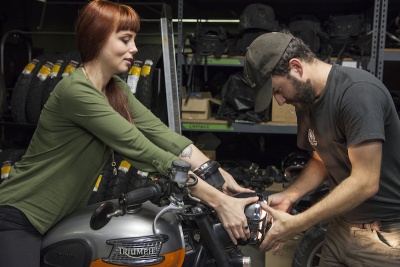 Tamara is constantly on her 2008 Triumph Scrambler and needed a better system for long trips on the road. "The AltRider SYNCH Dry Bag systems are particularly neat, as keeping gear secure and dry on long road/camping trips is always a struggle." Tamara had the headlight guard and single seat luggage rack installed, and a pair of SYNCH dry bags were fastened to the back. "The Altrider seat is actually a lot more comfortable than my old one!"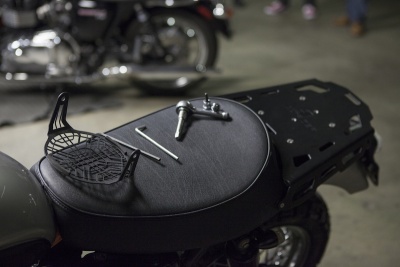 Motoquest mechanic Darin provided the girls with one last safety check on their bikes and they were ready to go. Altrider was happy to help install parts for these women that would not only last, but make the journey to Joshua Tree a little more smooth. Below are some images of the bikes at Babes Ride Out in all their glory. Venture on!