Our featured fan this week is Pacific Northwest native Peter Edmonds. Check out what Peter had to say below: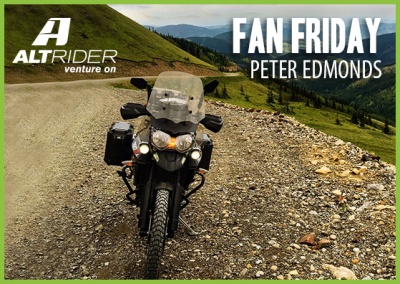 ----------
In searching for the most functional, thoughtfully designed, and handsome crash bars, I stumbled across reviews of AltRider bars and they emerged as the best possible option for my bike.
First, I like the variety of products they have on their website. It's a well-curated selection of quality goods that are very useful for the type of riding I do and the bike I do it on. Second, working with their product team on the phone was extremely helpful in making sure I had the best set up for my intended use on my bike. When I went to pick up and install the parts in Seattle, they were there to help and answer my questions as needed. Their passion for adventure riding was evident through every step of the purchase, pick up, and install process...these guys and gals love what they do and they put that passion into their products.
I have a set of
crash bars
and the
DualControl brake system
. The Altrider Head Office in Seattle was a first stop on one of my big trips, where I installed my crash bars and picked up some other gear. The team at the office was like their products coming to life; thoughtful, passionate and knowledgable, it was super reassuring to be able to consult their techs to make sure I had optimal installation of my parts while I installed them in their parking lot. The bars were easy to install, look great on the bike, and I have been fortunate enough to test them quite a few times already.
They do a great job of protecting the bike and make dumping the bike no big deal at all. My bike already has an upgraded foot peg on the left side, so adding the DualControl has created a super solid and stable platform for standing and controlling the bike in all conditions. The two foot positions on the dual control give me the option of having powerful finite braking that is perfect for technical terrain and steep descents.
I currently ride a
Triumph Tiger 800XCA
and spent the summer exploring 9500 miles of dirt roads and highways all throughout Cascadia.