Santa is loading up his panniers to head out on his epic annual glide around the world. While Mother Nature is trying to rough him up with some cold weather to the East, she has been kind of late with clear conditions in the West.

Every year we visit the Santa at the mall. While he doesn't let us sit on his lap, he still takes requests (although now he rocks an anti-H1N1 mask to protect himself). We asked for adventure bikes all over the world to be outfitted with brand new AltRider gear in the New Year.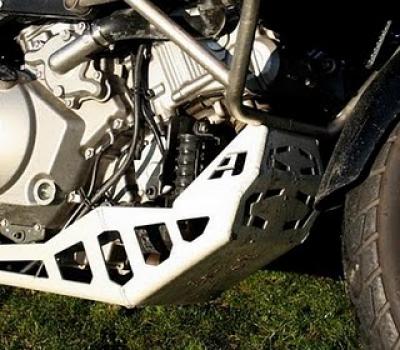 Santa said he would be the first to try it out (he rides a Suzuki V-Strom if you didn't get the memo) – so he came by AltRider HQ last night. We offered to gear up his V-Strom and it seems our new DL1000 crash bars work exceptionally well on even on Santa's North Pole adventures.

Built from 1" stainless steel pipe, they deflect any impact through the frame, rather than into the mounting hardware. To make sure the undercarriage of the bike didn't suffer brutally under low snow conditions, Jacob quickly bolted on a new skid plate on his bike as well. While the skid plate provides full protection of the exhaust header on the V-Strom 1000cc, Santa particularly liked how it protects his oil cooler without restricting air flow.

"You have all been very nice, indeed." Santa remarked. "And thanks for the parts."

When he asked what we might have for his elves, Don revealed the new line up of AltRider t-shirts. The 100% cotton short sleeve tees are available in sizes from XXXL down to size S, perfect for any elf. While they are officially "coming soon," we had to hook Santa up…

Check with us soon for the go-live date of the AltRider web shop. Our elves have been busily welding up great products for you V-Strom, GS, or other Adventure Touring motorcycle.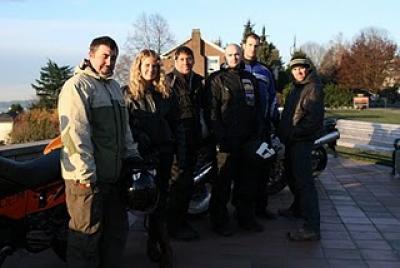 Merry Christmas to all and to all a good ride!