The Problem
As we've seen many more times than we'd have liked to, the BMW OEM lowers just aren't enough to keep your cylinder heads safe.
The shape/design of the bars, with no support at the rear, leave them vulnerable to bending. BMW must know that their bars are prone to this as they recently added rubber bumpers to their bars to help prevent damage to the valve covers. Even with the bumpers though, the bars can send enough impact force into the valve covers to crack them…leaving you stuck with a 2-wheeled piece of furniture and a puddle of oil.
The risk is so prominent amongst these bikes that BMW even makes an emergency rubber valve cover kit for situations just like this. You know what they say; necessity is the mother of invention.
For all intents and purposes, the valve cover is simply a dust cover designed to keep contaminants out and engine oil in. BMW offering a rubber version proves just that. That's why BMW uses lightweight magnesium for the valve covers which take very little force to send a crack through. You can see what we mean in the photo below, sent in from an AltRider customer before he upgraded to our bars.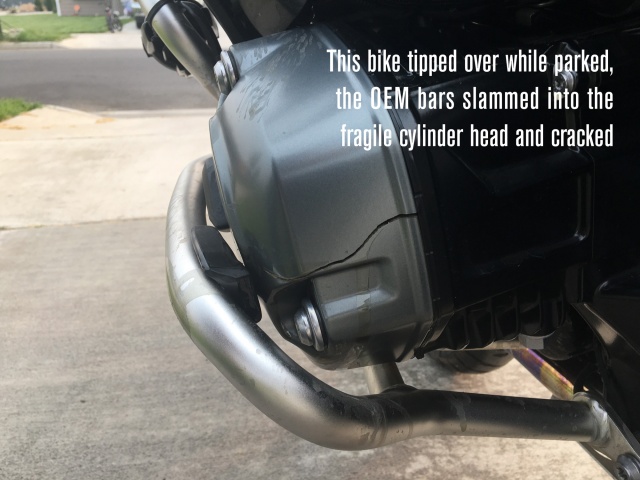 (This rider cracked it on their concrete driveway but we've even seen this happen firsthand on dirt. That time, we had a BMW tech nearby who replaced it in the field. Most riders don't usually have that luxury.)
Our Solution
The AltRider Reinforcement Bar was designed to address this flaw. Using the same CNC-machined engine through-bolt from the AltRider GSW Lower Crash Bars, the reinforcement bar is secured directly to the frame, broadly distributing what could be massive amounts of force. This upgraded system is now able to sustain impacts well beyond the simple tip over that caused the crack in the picture above.
Our competitors chose the cost-effective route and use a plastic slip-on puck, along with a tiny M5 bolt, to attach their reinforcements to the bike. The plastic puck is highly susceptible to cracking upon impact and any bolt that small is at a risk of shearing under pressure.
How we integrate into the OEM bars
We invest in robust (3500 PSI rated) industrial grade 1 inch clamps to secure the AltRider Reinforcement Bar to the OEM Lowers, achieving a single tied-together system. Our competitors utilize thin metal loops which are known to split upon impact.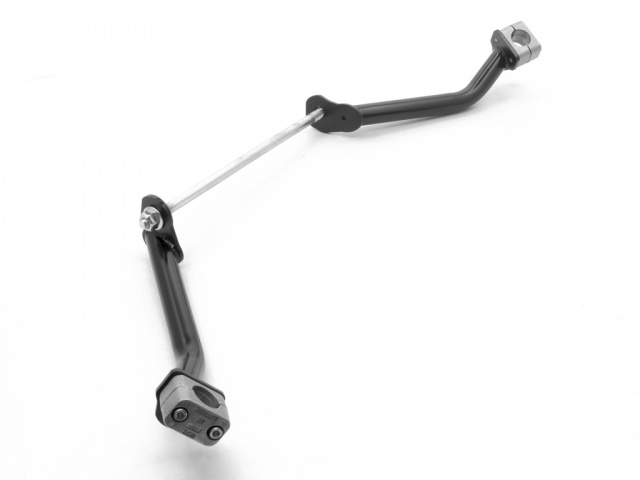 The end result is a well-designed unified system that will protect your R1200/1250 GSW in most all crash scenarios. Tested in the field, and at off road training schools, this part has more than held its own. We're proud to call this part ours and we hope you will too.
Don't just take our word on all of this though, look at your other options and let us know your comments and questions. We'll do our best to get you the answers you're looking for. In the end, our goal is to help you make the best educated decision that works for you. If that means AltRider, that's a bonus.