The bikes in the AltRider offices are primarily outfitted for the off-roads – after all, we are in the business of crash protection. As we learned from our last blog post on Ergonomics , it's crucial to find that sweet spot with your bike where you can ride for hours without feeling strain – largest contributing factor being body positioning. A few simple adjustments can dramatically influence your comfort level, reduce fatigue-- increasing endurance and ensuring maximum fun. To conclude our series on ergonomics, we'll focus on your lower half: legs, and feet.

Foot Pegs:
How many of you are unhappy with your current foot pegs? Normally riders find OEM foot pegs to be uncomfortable for a few simple reasons: size, grip, and position. Usually their position doesn't allow for an easy transition between street and off-road riding. For example, the pegs on a standard GS will be very slim, short, and positioned where the average "street" rider would want them. They are a simple steel design with a removable rubber cover that provides comfort on the road, but when removed, exposes "teeth" for extra grip off-road. Your large boot over the tiny peg will cause discomfort while in the standing position for long periods of time because the entire weight of the rider is distributed over such a narrow peg.
What is the solution? A larger, wider foot peg. If you make your foot peg wider, you are providing more surface area for your boot to come in contact with. The more boot you have in contact with the pegs, the better grip you'll have while riding.For our bikes that we take out to events and rides, we outfit them with either Pivot Pegs or Fastway Pegs.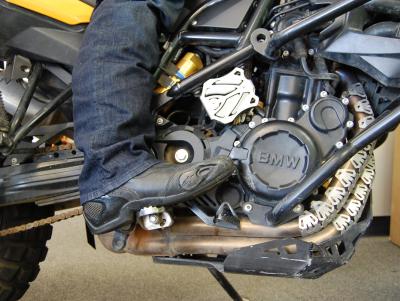 Pivot Pegz:
Pivot Pegz have a wide platform with a pivoting feature, allowing the gear shift and rear brake lever to remain easily accessible with optional convertible toppers. The platform is spring-loaded, keeping the pivot action stable and insuring the rider maintains balance. With closer examination of the rider's foot, you'll notice right off the bat that the ankle never stays put but has to pivot, helping operate the controls. The peg's design provides excellent grip and load distribution all while decreasing debris build up.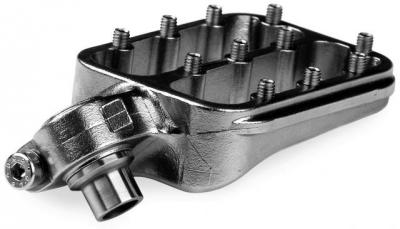 Fastway Pegs:
Some riders prefer a traditional static peg and Fastway offers a super wide, high quality cast peg with replaceable cleats. With the immense load that foot pegs experience, it's important they are made from cast or billet material not mild sheet steel. Fastway Evo III pegs allow the rider to choose between two height positions providing a custom fit for the rider and their bike. The mounting system lets the rider adjust the upward and downward tilt of the pegs. The cleats on the Fastway pegs have adjustable height and can be replaced with wear.
Rear Brake:
Ever find it difficult to reach your rear brake in the standing position on a bumpy section of a ride? When you go from a seated position into a standing position your feet and legs will turn out slightly with your toes pointing higher up if you're standing normally. Your buddy with a GSA has a fancy adjustable peg for on and off-road but for the rest of the bikes this advice is beneficial.
A Quick and Easy Adjustment:
On BMW R1200GS, or BMW F650/F800GS Models – Simply bend this small vertical tab of metal horizontal leaving the pad easy to use whether you're sitting or standing. You can now use the tiled in tab as a higher access point when standing.
Tilting brake lever up a couple of notches. This may take you a couple of tries to get right and may not be as comfortable on pavement. This is not possible on most of the BMW models.
Check back next month for more tips on tire pressure and different terrains. Give some thought about your foot placement when you ride and your level of fatigue. Prolong your adventures with aftermarket foot pegs for greater comfort on your bike. You never know when an afternoon ride through the woods could turn into an epic adventure from Cape Horn to Prudoe Bay.